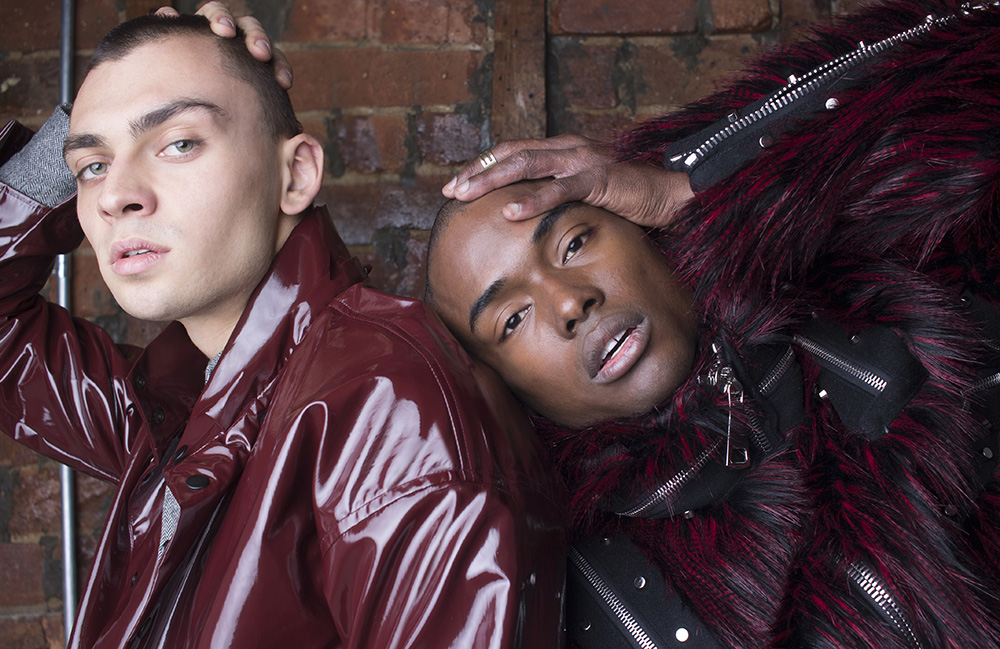 CHIEF EXECUTIVE OFFICER//
// CREATIVE DIRECTOR
JULIAN WOODHOUSE
"Art has the responsibility to match the beat of the people. Fashion is no different; for fashion as an industry to survive socioeconomic or political shifts, it needs to match the pulse of the people. To communicate what needs to be communicated; to amplify the various beliefs, values, and identities of the market of consumers it is responsible for serving."
Majoring in International Business with a Minor in Spanish and an Emphasis in Creative Direction, Julian has diversified his professional experience in the performing arts, banking, artistic direction, graphic design, modeling, styling, and wardrobe consulting. He designed his first five men's ready-to-wear collections while simultaneously serving as the Second-in-Command of his Military Intelligence Unit in Korea. Julian completed his four years of active service in December 2016. Leaving his well-oiled supply chain and managers active in Seoul, he moved to NYC in January 2017 to establish the brand's Administrative Headquarters and focus on the global expansion of his already multinational brand.
GENERAL MANAGER//
//OPERATIONS DIRECTOR
KIRILL KABACHENKO
"Moving to New York opened new horizons for the brand and gave me new insights for the direction the company should take. I bring the voice of logic to WOOD HOUSE Army by shaping creative ideas into sound strategy."
Kirill Kabachenko was born in Zaporozhue, Ukraine. During his childhood, architecture and design were hobbies and this focus led him to major in Architectural Design in university. At the age of 17, Kirill began dual-tracking his education with an international modeling career, taking him to Shanghai, Beijing, Kuala Lumpur, Delhi, Bangalore, and Seoul, and has continued his journey into NYC and Milan. Kirill as Chief Operations Officer (COO), manages all logistic operations within WOOD HOUSE Army including visual elements, supply chain innovations, and the daily operations of the brand by ensuring sound production and sourcing. Under Kirill's strategic guidance, the brand established a specialized supply chain in Seoul, South Korea. In 2016 Kirill took his multifaceted career to New York City.
THE BRAND
ESTABLISHED SEOUL KOREA, 2014
WOOD HOUSE ARMY IS FOR PEOPLE
People are confident, beautiful, royal, unique, and powerful and this brand is for people.
Julian had, from his first pair of designer shoes until the moment he became a designer, spent his time developing his own personal style but felt limited by what was in the menswear sections of his frequented department stores and boutiques. It was while, Julian was seeking inspiration instead from womenswear that he found the answer to his problems.
"They're just clothes."
—Circa 2013
Instead of looking at shopping racks in terms of gender association he looked at the entire store as filled with options he could use regardless of who the store thought they were marketing it to. Finding more inspiration in womenswear garments Julian wondered why the men's and women's sections were so polar in their differences. In menswear things were dry, safe, contemporary, and boring compared to the color pallet, freedom in silhouette, and diversity in womenswear.
"I'm only going to wear what inspires me, period! I'll find a way to make my own stuff." —Circa 2014
At the time, Julian was serving in the US Army while stationed in Korea. As a child and teenager he spent time with his parents living in Korea and knew the magic of Korean seamstresses and tailors. Pairing with his first tailor who also had a great skill in pattern making, Julian began designing options for himself he couldn't find in either men's or women's sections. By the end of his first year in Korea Julian had redesigned his entire wardrobe piece by piece by either tailoring existing pieces or creating new ones.
By the spring of 2015 Julian along with his first partners, Steve and Deanne, had taken Julian's skills to the next level and created a brand for the designs to be known by. The first collection titled, WARRIOR was Julian's first real attempt at branding the creative force he felt led him to creating many of his first pieces.
Season by season Julian continued to dream up new ways to dress not only himself, but the fans he was gaining both in Korea and NYC.
Kirill came onto the team in 2015 first as a model in the first collection and then partner of the Creative Director. Julian and Kirill started to draft a plan to get the brand out of Seoul into NYC. Kirill, being more attracted to the technical business side of running the brand naturally began improving a lot of the business practices and timeliness of executing garment manufacturing while in Seoul. Together the two developed each next collection.